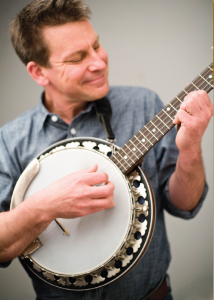 Jim Gill is best known for his music recordings and his books with musical themes. His latest recording, Music Play for Folks of All Stripes, was named a 2012 Notable Children's Recording by the American Library Association/ALSC. This is Jim's fifth work to receive this honor over the years.
Jim is also, however, a child development specialist. His goal in this session is to emphasize the many connections between music play, literacy and various domains of early childhood development. Connections between music and early literacy become clear as Jim Gill shares clever word play and rhymes in the context of active movement games.
Librarians in youth services and early childhood professionals will be sure to find many new ideas to enhance storytimes and children's programming. Jim will share music and play that can be utilized with preschoolers as well as with infants, toddlers, and parents.
Be prepared to "Do Re Mi" on your "Toe Leg Knee" and bring a repertoire of musical play back to the young ones at your library, school…..or home.
Sponsored in part by the Eastern Washington Association for the Education of Young Children
Friday, March 1st, 2013
Moran Prairie Library
6004 S. Regal St
Spokane, WA 99223
Phone: 509-893-8340
Morning Session: 8am-12pm
Afternoon Session: 1pm-5pm