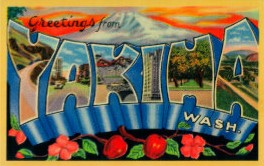 Program proposals are now being accepted for the 2018 WLA Conference October 17-20 at the Yakima Convention Center. This year's conference theme, "Cultivating Communities, Harvesting Ideas," honors the bridge-building and innovation happening in and outside of libraries, as well as gives a nod to Yakima's autumnal agriculture.
Please share this REQUEST FOR PROPOSALS with your library-related networks, program partners, advocate organizations and with any colleagues who may not be WLA members.
All proposals from Academic, Public, School, and Special library staff and advocates will be considered, as will those from community partners. Please reach out to the dynamic presenters in your communities or share your own skills and experience by leading a session or workshop.
Proposals are due no later than Monday, April 16.
The person who submitted the proposal will be notified of the outcome by May 8.
Programs may take the form of 75-minute sessions or 3- or 4-hour workshops.
Presenters should request approval from their employers to attend the conference before submitting proposals.
To submit a program proposal, please use this form. To submit multiple proposals, use a new form for each program.
Please direct questions to the WLA office at info@wla.org or (206) 823-1138. On behalf of the 2018 Conference Committee, we look forward to receiving your proposals!